$50 min for domestic orders (more info below). All plants are (at least) double fans unless otherwise indicated. Orders received after Oct. 1st are shipped the following Spring. Spring shipping starts ~last week April, and weather dependent.
Our Culture Methods:
Our bed soil is fully organic. Starting with a hay pasture, we've tilled our beds down to 18" and amended with compost since irrigation was installed in 2009 (only then was this dang red clay soft enough to actually dig in). No chemical fertilizers are used here, as we feel they can result in incorrect statistics during plant evaluation. Though we have no real problem with daylily rust in our area, we are on a rotational spray program as needed. We spray a few times for aphids and thrips, but only if the population is beyond what nature's predators can handle.
Here's our subterranean irrigation system, in action!...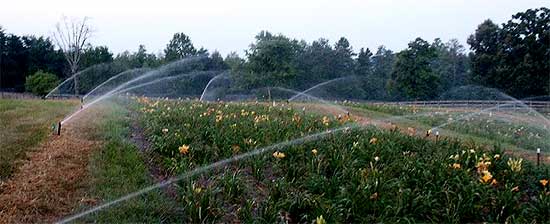 State Ag inspections are passed with flying colors regularly here
(which include testing specifically for
puccinia hemerocallidis
and nematodes). NC Licensed plant "Preferred Vendor" as of 9/05. All outgoing plants are completely submerged in a combination of systemic fungicide and bleach prior to shipping.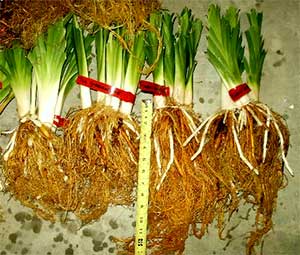 Only
mature
fans are counted for all sales. Smaller/extra increase is not divided off when lifted... yours to keep! We do NOT chop the roots to smithereens, and send only fully-rooted plants lined out at least 4-6 months prior to shipping. Here's what you can expect (photo to right)...
In many cases, we have several sizes of the same plant lined out for sale (from 1 to 4 fans). If there is any questions you may have regarding what's currently available,
please
don't hesitate to call directly.
Payment:
All forms of payment are appreciated
within 30 days of placing your order
.  Beyond that time, plants ordered will be returned to inventory for sale. Cancellations of a paid order result in a 75% cash refund, less any Paypal or credit card fees (if applicable).
Checks
payable to Slightly Different Nursery, and mailed to 2812 Hollis Road, Shelby NC, 28150.
All major credit cards and Paypal
are accepted, yet except for international orders, require an
additional 3.5% surcharge levied by your credit card issuer (not us)
.
Shipping Info:
General cultivars are double fans (DF's) unless stated otherwise in plant description.
Domestic Shipping: $50 minimum order.
Shipping via USPS Priority Mail (2-3 day). It is not our responsibility if plants are delayed by the USPS. Shipping charge is $10 for the first plant, $4 for each additional. Combining orders is no problem!
International shipping
EU customers: There is a current ban on importing daylilies (as well as 267 other type plants) as of 11/25/15. Please contact us before placing an order for an update on that status. For other countries: Standard method is via USPS Int'l Priority Mail: $500 minimum order (not including shipping cost), payable using Paypal or credit card (in US$). Money order in US$ is good as well. USDA Phytosanitary Certificate and additional handling/paperwork fee is a flat $75 (our actual cost). USPS shipping rate is $60 for first 5 plants, and $7 for each plant after that.
It is not our responsibility if plants are unduly delayed by the mail service or customs.
Plants are certified healthy upon inspection for Phyto Certificate and departure, which is all we can do. Proven additional measures are taken prior to shipping abroad to help insure the plants survive the increased transport time. FedEx and UPS are available, but at extra cost. DHL is not an option.
Our years of operation afford us the knowledge of just how to produce plants of the finest quality for folks to enjoy for years to come. Happy healthy plants, from a happy healthy place!...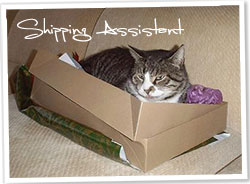 If you have any questions regarding shipping, please don't hesitate to call one of our shipping specialists... they're more than eager to help!..