GPS/Map Location of Slightly Different Nursery • 2810 Hollis Road, Shelby, NC 28150 • 704.477.9939
PLEASE NOTE: Except during "Open Garden" times (see "Nursery Events/Hours" page for details), nursery is not open to "walk-in" retail...
visits are by appointment only. Simply call for a time, and I'll be here!
"Peak bloom" here is generally June 15th to July 15th, but can vary - call for update, if in doubt!
Follow this LINK to a Google Map of our location.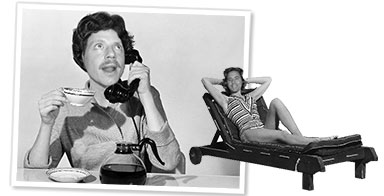 You MUST call for appointment and make sure someone will be available to get you oriented upon arrival, and verify driving directions... (704)477-9939. If no answer, please leave a message and we'll call back ASAP! Chances are, we're busy out in the fields...
Location/Driving directions:
Mapping services (Mapquest, Google, Yahoo) recognize our address as 2812 Hollis Road, Shelby, NC 28150. However, we're actually located in the small town of Polkville... 12 miles north of Shelby, just 1/4 mile off SR 226 on Hollis Road. There's no way to miss our place (which will be on your right shortly after turning onto Hollis), as our front pasture is lined with a big "Kentucky style" wood fence followed by a SIGNED concrete drive entrance. Follow the Myrtle-lined drive down to the barn/nursery, which has plenty of paved parking (even enough for your club's bus!). Again, please feel free to call for specifics if you need to! Here are the Mapquest versions of our location...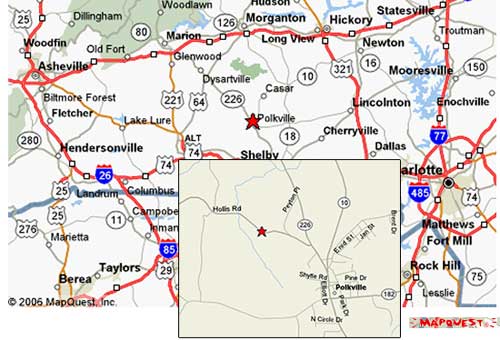 Local Accomodations: De Starte Bed & Breakfast is a LOVELY B&B located just a few scenic miles away from our location here in the foothills of the Blue Ridge. Owned and operated by the very dynamic Glenda Miller, this newer Victorian-style home is quite a showpiece! With several rooms available in various price ranges, we're confident you'll find something appropriate (and quite comfy!) here. Glenda also owns the cutest shop in the area, called Red Bone Willy's... specializing in upscale and creative "mountain wares", and complete with a cafe!
Cleveland County Visitor Information: a great site to learn of things to do in our area, while visiting Slightly Different Nursery!
We look forward to seeing you soon!